In 1974, Ken Schultz, Jan Alm, Carlo Leon and Carl Lundquist met to form the Greater Chicago Cichlid Association (GCCA). After much discussion, a name for the organization was agreed upon, and Carlo was designated President, Jan, Vice-President and Ken, Treasurer.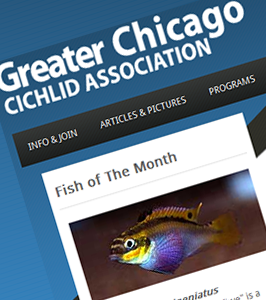 Postcards and posters were printed announcing the formation of a Chicago area Cichlid group, and over 500 responses were received from interested hobbyists. As most respondents were from the north side and northwest suburban area, it was decided to hold the meetings in that area.
Jerry Lindquist, another hobbyist, had parents who were managing the International Motor Inn on North Mannheim Road. The club was able to use the Inn for meetings. In January 1975, the first meeting of the GCCA was held, with a large turn out of prospective members. The soon-to-be leading Cichlid group in the Great Lakes area was launched.
GCCA was proud to honor Mario Toromanovic and Bruce Canaday for achieving the level of Advanced Breeder in our BAP program. To become an Advanced breeder, 25 successful spawns must be submitted.
The BAP is an important part of what makes GCCA a viable club. The BAP program challenges members to breed new fish and it brings exciting new fish into our club at each meeting. The GCCA site has more details on the Breeders Award Program.