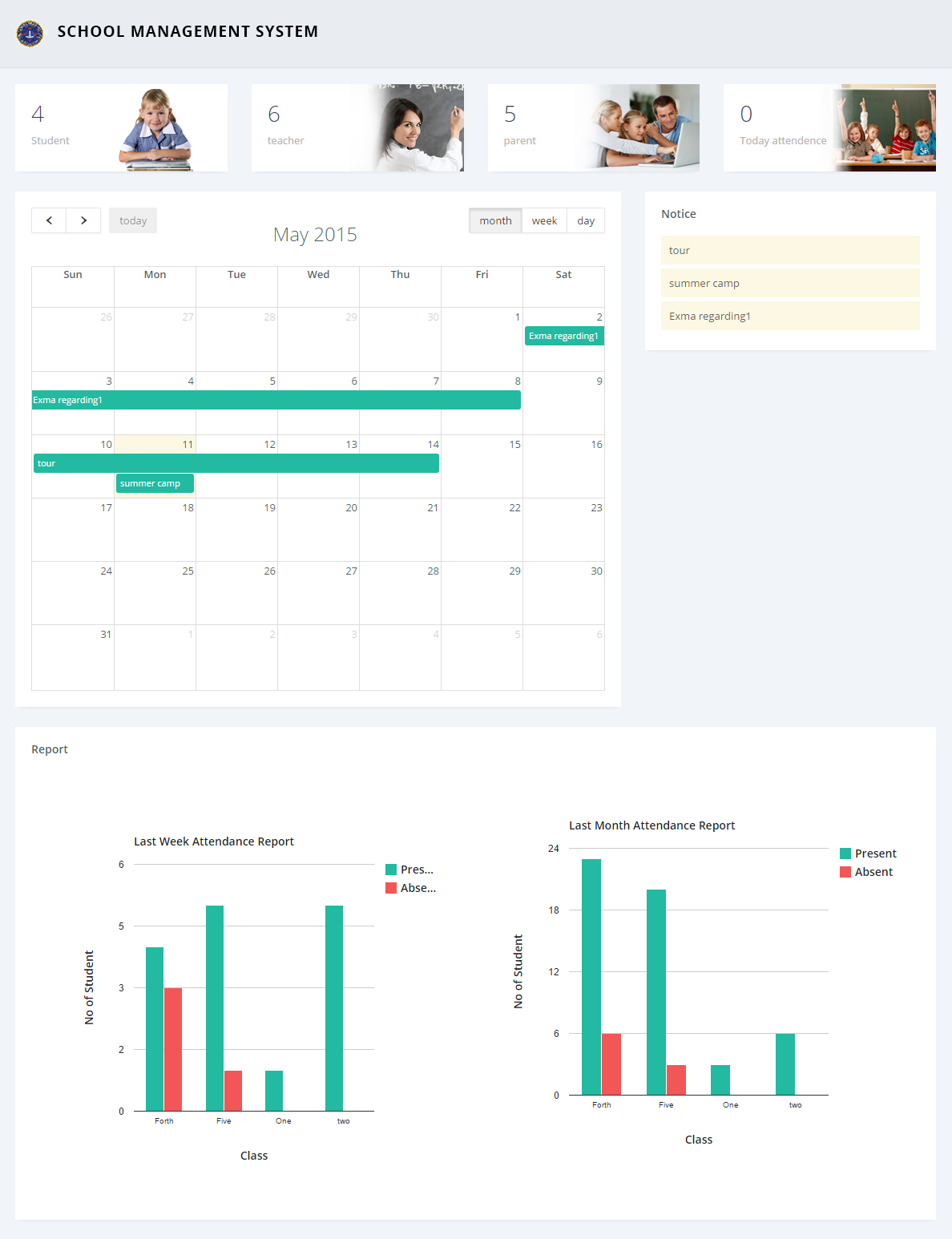 School Management System is ideal way to manage complete school operation. The system has different access rights for Admin, Teacher, Student and Parent.
Features:
Control all school activity online
Print report card in PDF
Anytime, Anywhere access
Admin, Teacher, Parent and Student roles
Exam, marks and result management
Students and teachers attendance
Reports and gauge teacher and student performance
Front End Student Registration :
Allow student to registration from front end.
Simple shortcode to enable front end registration.
Admin approval system for student registration.
Dashboard :
Helps admin get overview of school
dashboard with key static Info-Graphic
calendar , Reports , Notices all at once
General Settings :
Admin has full rights in the system
Admin create student , teacher and parents
Manage complete school operation
List of Module
Online Fees Payment
Accept fees with paypal
Send fees Intimation – invoice to parents
Generate reports for collection – due
Library Module
Manage Book Records in library
Issue book to student along with validity
Manage book location and collect fines
Popular SMS API
Clicatell and Twilio SMS api
Simple options to configure api
Send SMS from notice – event screen
Multiple Language + RTL
Support all major languages
Easy to edit language file
Easy setup your language
Class Route
Define class route for students and teachers
Student and parent can view class route – timetable
Admin reserves rights to add route
Front End Student Dashboard
Download course syllabus
Download weekly timetable class routine
Check exam results
Front End Parent Dashboard
View child's attendance
Manage multiple child in same school
Check child's report card
Front End Teacher Dashboard
Check student – parent details
Take attendance of class
Manage marks of students
Student Module
Admit student with complete profile
Student login access and dashboard
Student class routine and payment data
Access to results and noticeboard
Parent Module
Parents dashboard , calendar and holiday list
Manage multiple child under single access
Check class routine and notices
Access to child results , fees & teachers data
Teacher Module
Add subject and syllabus
Take class attendance
Add and manage student marks
Print result in PDF
Class Route
Define class route for students and teachers
Student and parent can view class route – timetable
Admin reserves rights to add route
Subject Module
Manage subject and assign teacher
Search and pagination features
Add syllabus for each subject
Class Module
Manage class with easy use interface
Add class with student capacity
Class name and numeric value
Grade Module
Possibility of credits , marks and Grade
Relates marks with Grades or credits
Comments against each grade appears in Mark-sheet
Manage Marks
Add marks against each exam and student
Enter marks rapidly for each subject
Enter marks student wise
Attendance Module
Teacher can take student attendance
Possibility of teacher attendance
View attendance of past date
Possibility of editing attendance for current day
Message Module
Admin can send message to all
Teacher can send message to all
Student and Parent can only view messages
Option to delete messages
Notice – Event Module
Admin reserves rights to manages notices
Create and send notice for intended group
Notice appears on dashboard calendar
Single day or multiple day Event notice
Transportation Module
Admin reserves rights for the module
Complete driver and vehicle details
Search , sort and filter
Student and Parent can only view details
Hall List
Search , sort and filter hall list
Admin reserves rights for the module
Identify hall with name or numeric value
Hall capacity and description features
Holiday Module
Inform everyone about yearly holiday
Date selection for single day holiday
Date range option for vacations
Single day or multiple day Event notice
Migration Module
Move student to next standard easily
Upgrade-admit all passed student to next class
Define criteria for mass migration
Payment Module
Keep track of student fees
Payment Logging is possible
Offline payment
Full or part payment possible