Alfresco is an open source content management platform. You can customize, extend, and build your applications on the Alfresco platform. On top of this platform, we offer various solutions (web, mobile, collaboration) that you can customize for your use case.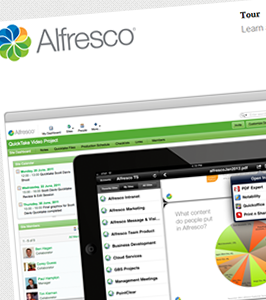 Today's companies are more mobile and more collaborative than ever. Now you can work anywhere, with anyone, on any device—all connected by the cloud. In other words, Alfresco makes sure you have your content wherever you are.
Alfresco is the cloud connected content platform that allows people to work anywhere, on any device with the apps of their choice.
Alfresco is made for people who want to do great work. Your content is your business: Strategic plans. Customer profiles. Sales presentations. Invoices. Contracts. And the simple fact of business today is that people need to work in more places and with more people.
If you never worked with anyone, you wouldn't need Alfresco. But the truth is, you are always working with people. Ever lost a file or couldn't access it? Ever had to search through emails to find an attachment? Ever wanted to leave your laptop behind and work only with your tablet? Your enterprise is ready for Alfresco.
Alfresco is for storing, accessing, and sharing content. People in today's organizations are mobile. They use multiple devices. They access countless files and share them with hundreds of people every day. This is a world made for Alfresco. Whether you need the power of Alfresco inside your firewall, or you need the flexibility of the cloud. Or a combination of both—you decide.
Because it's in the cloud, you can start today with only a business email address. And your company can run it anywhere, from on-premise to the world's most collaborative computing device: the tablet. Alfresco also features social tools that let people in your company share and discover content the same way they do with social media, from peers they trust. But this is just the beginning of what you can do with Alfresco.
Alfresco works the way you do. It allows you and your content to move from desktop to cloud to tablet to smartphone. Wherever you are—access your files and share them with those who need them. If you're ready to turn your tablet into a powerful enterprise productivity tool, you're ready for Alfresco.
Alfresco integrates with MS Office, Apple iWork, Adobe Creative Suite, Google Docs, and more. And it's open source. Which means we can innovate faster, and you never have to worry about your content getting locked in a proprietary platform.
Our pricing is simple. Get started in the cloud now. It's free, and includes 10 GB of storage. When you need support, administrative features and additional storage, upgrade to an Alfresco Standard Network. When you are ready to roll out to your entire enterprise, you're ready for an Alfresco Enterprise Network. Prices start at just $10 per user, per month.
Need the capabilities and confidence of a tested, certified platform that can run behind your firewall? You're ready for Alfresco on-premise. It's a true enterprise platform and comes with full 24×7 commercial support. Download a 30-day trial and see if Alfresco on-premise is right for you.